Meetings & Events
Start every occasion with the sense of history, celebrity and excitement. At Wisdom Home Hotel we make your guests feel like movie stars, from the moment they are ushered into the hall designated for your event to the last moment they are leaving the event venue; and their experience will linger in their minds several months after.
We have well-trained events teams who can organize any kind of event, from a private wedding to a big conference of delegates. They ensure that every occasion is uniquely planned and successfully concluded; their goal is to see that your event runs smoothly, leaving you free to enjoy it yourself.
EXCLUSIVE MENU
The hotel's catering team is well-trained to provide excellent services, and can prepare exquisite cuisine customized to any kind of events you are organising.
CONFERENCE ROOMS
Our conference rooms are suitably located within the hotel complex …
Equipped with the latest technology
Projector and Screen
Wi-fi and high speed internet
Facilitators Case
Air-Conditioning
Personalized catering service
Conference services teams
Technical Support Team
State of the art equipment
Projectors rentals
Natural Daylight in all meeting rooms
Individual light controls in each room
State-of-the-art audio visual equipment
Why Host Events at Wisdom Home Hotel?
Hosting events at Wisdom Home Hotel comes with great benefits.
Here, we ensure your stay is as comfortable as possible. Our suites and rooms are well furnished and equipped with modern facilities to make your stay a memorable one.
Our events halls have been built to be flexible so we can create the configuration that is right for your occasion. Just contact our events management team to discuss your needs.
We look forward to sharing our unique hotel and impeccable service with you to create a memorable and rewarding event.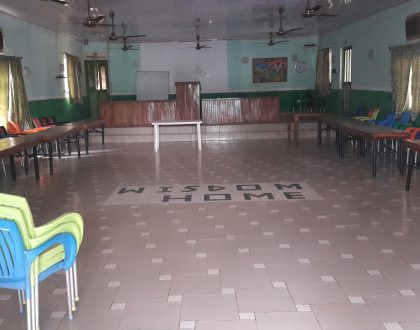 Odekina Hall – 150 Seats; N90,000
Umoru D. Hall – 50 Seats; N70,000
Get in touch
EVENT PLANNING INQUIRIES
Our guests are the heart of our hotel. Whatever you need and whenever you need it, simply ask.
We'll be so pleased to house your company's business events.
If you would like to request a proposal online please submit the form below and we promise to deliver:
A verbal reply to your enquiry within 4 hours
A written proposal within 24 hours
Invoice dispatched within 7 days of departure
[contact-form-7 404 "Not Found"]